There are lots of PC cleaners today, so there's no question as to why you need a PC cleaner. A PC cleaner will improve your system's performance by optimizing it and even carrying out other tasks, such as clearing the cache and removing temporary files. Essentially, the goal of using a PC cleaner is to clean up your computer and make it quicker. 
CCleaner is a highly rated and popular cleaner because it has been around for a while and it cleans any PC effectively combined with other features that ultimately guarantee the smooth running of your PC. However, there seems to be a new kid on the block. Microsoft PC Manager is a utility by Microsoft to 3rd party system cleaning software. It is touted to be a new and better adaption of CCleaner for the Windows Operating System.
This article will provide you with in-depth information about Microsoft PC Manager and CCleaner as well as the unique perks they offer, and will try to look at the comparison of Microsoft PC Manager vs CCleaner. Tag along!!
What you should know about Microsoft PC Manager 
There have been reports that Microsoft is working on its cleaning software to help maintain your PC; the new software is the Microsoft PC Manager. This new PC Manager is currently free and can be considered Microsoft's official alternative to other 3rd party system cleanup software such as CCleaner and many others.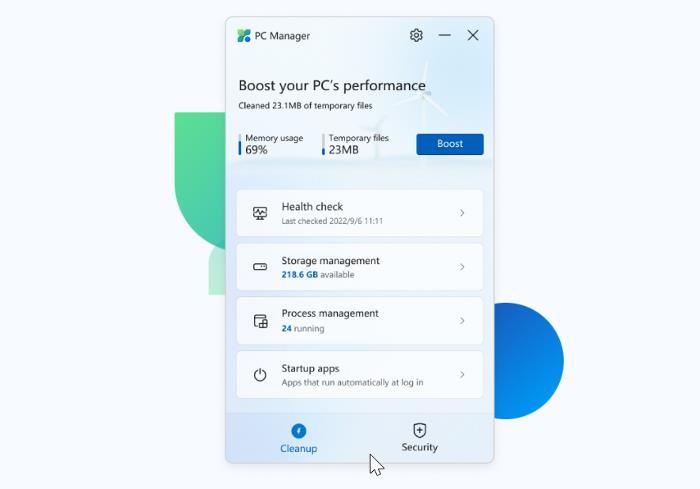 PC Manager is a basic system cleanup and optimization tool. It helps with storage management, deep cleanup, and other functions that foster the health of your PC. It also contains shortcuts to many built-in Windows applications to provide easy and quick access to users.
The PC Manager app is not available to download from the Microsoft Store yet. You'll need to download it from the PC Manager website. Currently, PC Manager is undergoing a testing phase, and a public Beta version is available for free for you to download and test.
Noteworthy Features
If you want to use Microsoft PC Manager, below are some of the top features you should expect:
This is an expeditious way to improve performance. When you click on it, it will remove the number of temporary files shown, which ultimately frees up some system resources.
The Microsoft PC Cleaner takes you to a list of maintenance actions, such as Items to Cleanup and Startup Apps to Disable. You can select or deselect any of the displayed activities and click Proceed to perform them.
You can use Microsoft PC Manager to maintain the storage space on your device. You could opt for a 'Deep Cleanup', which goes as clearing files from the Recycle bin. You can also opt for the 'Manage Large Files' option via the PC Manager portal, which grants you access to find files of a chosen size and type, and then delete them.
Microsoft PC Manager also provides you with a quick way to disable, or enable, startup apps. You can already find a list of startup apps in Windows Settings. This is just an alternative way to access that option. 
This feature is a replica of what you can achieve using the Windows taskbar. A list of processes that are running but currently unused is displayed. You can end the unused processes by clicking the 'End button'.
PC Manager also comes with a Security tab where you can scan your computer for viruses. This function initiates a quick virus scan using Microsoft Defender. All of this is done within the PC Manager window, including the results of the scan.
This part is where you can enable a pop-up blocker to prevent pop-up windows when using apps. When you click on the pop-up blocker, a list of apps that feature pop-ups is displayed. It's now your discretion to enable/disable pop-ups in those apps individually.
Here is where you get to see if there are any Windows updates available here. 
What you should know about CCleaner
CCleaner can be described as a software program designed to free up space on your computer and ultimately help you manage your computer to work effectively. It's largely revered as one of the best computer software cleaning apps.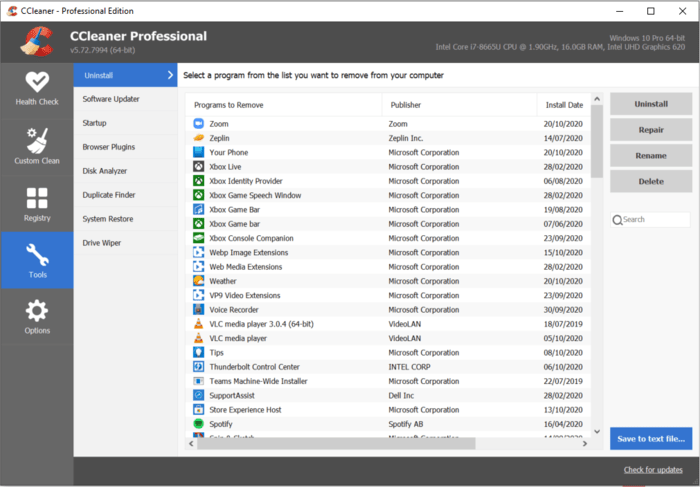 The software cleans up temporary or unwanted files that eat up disk space. Also, during the cleanup, malicious files or malware in your PC are deleted. CCleaner helps to optimize your  PC, which helps to guarantee a faster computer, guarantees safer browsing, and quicker startup. 
There are three versions:
The CCleaner free version
The CCleaner Professional version, which you can get for about $29.95 annually
The CCleaner Professional Plus version supports up to 3 devices for about $44.95 annually.
Noteworthy Features
If you want to use CCleaner, here are the key features you should expect on it:
Getting rid of unnecessary files
As the name implies, CCleaner helps to clean up your computer. Cleaning your computer helps to clear unnecessary files and data collected as you use your PC. You'll get a thorough cleaning of your PC without deleting anything you might need. There's even the option of a 'Custom Clean' where you can see the details of the junk files that CCleaner can safely delete, and then you can choose to 'Run Cleaner' to clean your PC safely.
Reviewing your startup items
When a program is installed, it can sometimes set itself to run every time you start Windows, and having lots of startup programs such as that will prevent your computer from starting quickly. You can do so by heading to 'Tools', then moving to 'Startup'. A list of programs will appear, and you can choose the ones you don't want to run automatically and then click 'Disable'. 
Note: Disabling a program your computer needs can be problematic, so you should only disable an app if you know what it does because it may be required for your computer to function normally.
Uninstalling unwanted apps
Your device can become cluttered with apps and programs you once downloaded or were using at some point. This is where CCleaner comes in to help determine the impact of individual apps, how frequently you use them, or when last you used such apps and can uninstall them for you. You can just navigate your way to 'Tools', then mine to 'Uninstall', you'll see a list of programs, and you can choose which ones go remove and click  'Uninstall'
Supports the cleanup of more than 500 third-party applications, such as VLC Player and even Windows Store apps.
The patented speed up is a very unique feature of the CCleaner. It's a unique sleep functionality, which detects and stops resource-draining programs when not needed and wakes them up when you're using them. This helps to improve the speed of your computer and even the battery life.
 CCleaner detects more drivers than Windows' built-in updater and supports more than 30 million devices. This is to ensure that your sound, visuals, internet connection, and hardware run effectively.
Another factor that sets the CCleaner apart is its access and capacity to keep more than 300 of the most popular software up to date. You get to enjoy timely updates to your software. 
CCleaner also comes with an Uninstaller to get rid of unnecessary built-in and third-party apps. There are also other unique tools, such as a:
Browser Plug-in Manager
Disk Analyzer and tools to shred files plus a
Duplicate Finder; to find and delete replicas of files you don't need.
Comparison of Microsoft PC Manager vs CCleaner 
A direct comparison does not do adequate justice because the Microsoft PC Manager hasn't been officially released so the features and tools are bound to change pending its official release. However, a few key details still can be used to show a comparison of the Microsoft PC Manager vs CCleaner.
CCleaner appears to be a more comprehensive suite.
The CCleaner software offers built-in cleaning and optimization. It has additional functionality that will ultimately help improve your computer's performance. Since the Microsoft PC Manager hasn't been officially released yet, there seems to be a wild gap between it and the CCleaner in terms of added tools or functions. 
For software, getting access to a paid version most of the time is the best option.
This is because you stand a chance to gain more utility than when you're using a free version. The CCleaner has paid versions that offer advanced PC cleaning and optimization services, security checks, software and driver update, etc.
There doesn't seem to be any new feature the Microsoft PC Manager is offering
Although comparing both software might be a tad unfair to the Microsoft PC Manager because it hasn't been officially released, the PC Manager app doesn't seem to add any new maintenance tools to Windows yet. However, it makes it easier to access several existing tools quickly.
Conclusion 
There is no level playing field for which you can make a case of Microsoft PC Manager vs CCleaner because of the peculiar circumstance of the former still undergoing tests. However, this provides insight about the  PC Manager that Microsoft envisions to be a viable and effective alternative to other third-party clean-up software such as CCleaner. It should also be viewed as showing how well the Microsoft PC Manager is faring so far, and the notable aspects that can be improved on.
Frequently Asked Questions 
How do you download and Install PC Manager?
For the time being, Microsoft PC Manager is in open beta. This means that it hasn't been officially released, but anyone can now download and use the app. As it has been pointed out, it was initially made available to Windows users in China, so don't be surprised when you see some Chinese characters during setup. The app will be in English if that is your system language, so there's no cause to worry.
The PC Manager app is currently unavailable to download from the Microsoft Store. You'll have to download it from the PC Manager website. After the download, follow the steps below to install the program:
Double-click the application to begin the installation. 
You will have to accept the End User Agreement before you can proceed further.
Click on the Install button.
When the installation is complete, click the Launch button. 
What's the difference between CCleaner Free and Professional?
CCleaner Free majorly offers system cleaning and optimization. However, you'll need CCleaner Professional for software tools with all the features enabled. Some of the perks of CCleaner Professional include:
Access to all Health Check features: 
You have access to Health Check's 'Speed' and 'Security' in addition to 'Privacy' and 'Space'. 
Deep cleaning and security against junk files
You can set CCleaner Professional to clean out your web browser and system of junk files.
Cleaning of files across every user account on a PC: 
You can clean files across every user account on a PC to guarantee the smooth operation of your computer. You're not only limited to cleaning your user account if you use a shared computer.
Recommended Reads: