As a salesperson, you have a multitude of customer relationship management (CRM) software platforms to choose from these days. And, they're all extremely effective and helpful for getting the job done.
But Google Sheets offers two distinct advantages that most software options can't promise: It's completely free, and you're probably already familiar with how to use it.
If you're not interested in paying through the nose for some specialty software, or you just want to whip up a quick spreadsheet to move customers through the sales pipeline without all the complexities of other CRM software, then a Google Sheets sales tracker may be appealing.
But how do you get started? This guide will break down how to use Google Sheets as a CRM platform that will satisfy your basic needs.
---
1. Get a CRM template
The first step to setting up a sales funnel spreadsheet is to find a template. Make sure this template does everything you need it to. In addition to tracking contacts and leads, for example, it will need to be able to help you with relationship management or analytics.
Fortunately, it's easy to find thorough and well-designed templates online. But be aware that while Google Sheets is free, the templates might not be.
For example, Copper has created its own CRM template for Google Sheets but charges $25 per month per user billed annually for the service. HubSpot CRM, however, offers a free CRM for Google Sheets that you can download by just providing your name, email address, phone number, and other basic details.
So there's a lot to choose from online. The best idea is to try a few of them out and see which works best for your needs.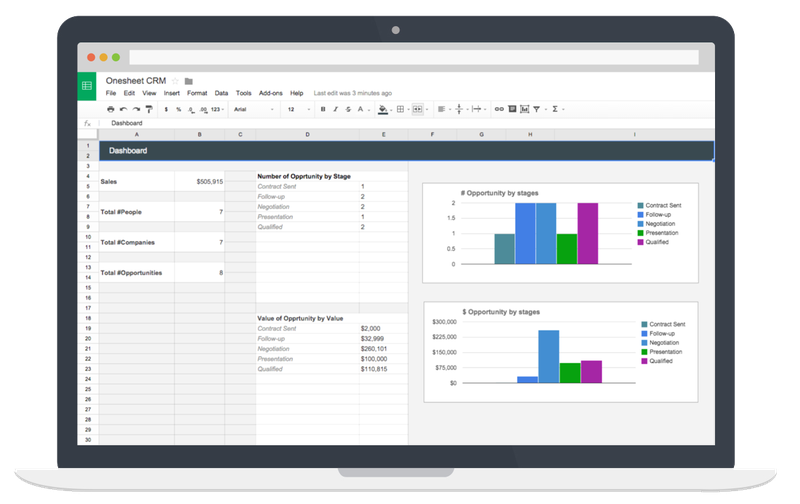 ---
2. Create your own
If you feel like using these templates is not much different from getting specialized software and would rather just create a simple CRM within Google Sheets yourself, you can certainly go that route.
You can do basic lead management through Google Sheets by creating a list of contacts and then sorting out their details in columns for name, phone number, email, notes, lead scoring, next action, and so on. You could easily import an existing list of contacts from Excel or Outlook into the spreadsheet, and then you can add those columns and begin filling them in.
If you're a one-man-band and are only dealing with a handful of clients, this should suit your needs. But, as your list grows and you add people to your team, you will need a solution that doesn't require so much manual entry and can keep vast amounts of information organized.
---
3. Tweak and tailor to your needs
The nice thing about Google Sheets is that it is completely customizable for your needs. Your CRM database will focus on exactly what you want it to, and your sales spreadsheet will display information that specifically matters to you rather than a one-size-fits-all template or software platform.
As you use Google Sheets to track your interactions with clients, make adjustments to how it flows. Add columns that might provide critical information, such as "opportunity stage" or "$ value," while eliminating columns you spend a lot of time filling in but usually gloss over.
Pay attention to how you use your new CRM tool and keep tweaking it until you're filling in as little information as possible while maximizing the usefulness of the information you have.
Simplicity is key here, so avoid adding as much data as possible. This not only distracts you from the important information, but you also waste a lot of time with manual entry.
---
4. Share it carefully
With your CRM set up, you may need to share it if you work with others. Fortunately, Google Sheets makes that easy with its "Share" button in the top right that allows you to choose individuals to share it with or even allow anyone with the link to view or edit it.
Be careful when doing this, though, particularly with a sales CRM. You may cause problems by both reaching out to the same sales leads, for example. Most specialized CRM platforms have built-in ways to avoid that scenario, but with Google Sheets, you're on your own.
Carefully determine who should have access and editing privileges so you avoid this situation. Consider creating separate sheets within the spreadsheet with a different list so both of you can work simultaneously within the document without stepping on each other's toes.
---
3 alternatives to using Google Sheets as your CRM
If you want a simple spreadsheet platform but are not a big fan of Google Sheets for whatever reason, there are alternatives. These three in particular will allow you to create a simple sales pipeline tracker that can assist with everything from lead qualification to data and analysis.
Microsoft Excel
Everyone's familiar with Microsoft Office, and its spreadsheet tool — Excel — shares a lot of similarities with Google Sheets. It's a proven platform that will get the job done and offers lots of extra features if you're willing to learn the software.
The only problem is that you'll have to pay for it. It starts at $5 per month per user (billed annually) for the Basic version of the business software and ranges up to $20 per month per user for the Business Premium edition. The good news is that you get access to all of its other platforms, such as Word and PowerPoint.
OpenOffice
OpenOffice's Calc spreadsheet tool offers most of the features of Microsoft Office, but it's completely free and open-source. This is a good option if you're on a strict budget and just need a basic spreadsheet platform. All you need to do is download it, install it, and start creat
ing your CRM in the spreadsheet.
LibreOffice
LibreOffice's spreadsheet tool, also called Calc, is also a free and open-source spreadsheet program. It offers the simplicity of other spreadsheet programs, but it also has a lot of good tools for crunching the numbers. If you're stuck, there are tutorials to help you learn how to use the more advanced features.
---
Check out some other CRM tools
Even if you're totally committed to running your CRM through a spreadsheet, you should at least try out a few of the specialized CRM platforms. If you've always assumed these tools would be difficult to use or too expensive, you might be pleasantly surprised to find that's not the case with all of them. Some are simple and intuitive, and you can find 100% free versions even among this type of software.
For example, Agile CRM is a platform meant for small businesses that automates a lot of features and makes it easy to import your contacts list, potentially saving you a ton of time. And HubSpot CRM, a big name in the CRM software market, offers a "free forever" plan where you get a limited version of the software for absolutely no charge.
Once your business starts growing, you're going to need to bite the bullet and get something a bit more specialized than a spreadsheet, so you might as well start checking out these CRM tools now.